Broadwater Medical Centre Newsletter
January 2023
Welcome to the fiirst Broadwater Medical Centre (BMC) Newsletter of 2023. We hope you all had a peaceful Christmas. A very big thank you to all the patients who brought in gifts for the staff. We all really appreciate your kindess at a time when many people are struggling. We wish you all a Happy New Year.
We are still continuing to offer appointments for flu vaccinations with our nursing team but have stopped appointments for covid vaccines due to no further supply coming into practices. However, anyone still wishing to get their covid vaccination can contact the national booking system for an appointment on 119 or online.
Winter Illness
With increasing number of colds and coughs amongst adults, we would like you to refer to the below information about duration of symptoms and when to seek treatment from your GP. In most cases, these conditions are self-limiting and your community pharmacist should be your first point of contact. It is not uncommon for symptoms to last for 2 weeks and antibiotics have no effect and carry a risk of side effects. 
Common Cold
You can often treat a cold without seeing a GP. You should begin to feel better in about 1 or 2 weeks.
Cold symptoms come on gradually and can include:
a blocked nose
a sore throat
headaches
muscle aches
coughs
sneezing
a raised temperature
pressure in your ears and face
loss of taste and smell
How you can treat a cold yourself

To help you get better more quickly:

rest and sleep
drink plenty of water (fruit juice or squash mixed with water is ok) to avoid dehydration
gargle salt water to soothe a sore throat (not suitable for children)

If you have a high temperature or you do not feel well enough to do your normal activities, try to stay at home and avoid contact with other people until you feel better.
A pharmacist can help with cold medicines.
You can buy cough and cold medicines from pharmacies or supermarkets. A pharmacist can advise you on the best medicine. You can:
ease aches or lower a temperature with painkillers like paracetamol or ibuprofen
relieve a blocked nose with decongestant sprays or tablets
Decongestants should not be given to children under 6. Children aged 6 to 12 should take them for no longer than 5 days. Be careful not to use cough and cold medicines if you're taking paracetamol and ibuprofen tablets. Cough and cold medicines often also contain paracetamol and ibuprofen so it can be easy to take more than the recommended dose. Some are not suitable for children, babies and people who are pregnant.
A Day in the Life of Our Pharmacy Team
Our lovely pharmacy team is (from left to right) Laura, KAthleen, Lisa and Freya with Roisin currently on maternity leave. The team consist of 2 pharmacists, a pharmacy technician and a pharmacy technician trainee.
Our team support the GP's by processing the discharge summaries that we receive after patients have been in hospital. Any medication changes are updated on the record and, where appropriate, the team contact the patient to check the new medication is working well and is understood. The hospital are expected to give us 28 days of medication initially to allow time for us to receive the discharge summary. By the time a patient needs the repeat prescription, our team enables it to be updated and correct on the record so it is a smooth, quick process for the patient to then request.
Some medication is not on repeat and is called an "accute" request. These are sometimes medications that need extra monitoring, are new or a patients has not had for quite a while and in order to speed up these being issued, we ask that patients put a detailed reason for the request. If there is nothing we will need to make contact to gather this information and this will take longer. All repeat requests take us 3 working days. Most prescriptions go electronically to your nominated pharmacy saving on time and paper, however, our community pharmacy colleagues will need a little longer to dispense it.
Your nominated pharmacy can be any pharmacy you want to pick it up from, this might be nearer to your workplace than where you live if this is more convenient.
Our pharmacy team make sure reviews for medication are completed, take queries from both patients and staff over supply issues locally and nationally and enable changes when directed from the local medicines management team and the Integrated Care Board (ICB).
Many reviews are now done by our pharmacy team rather than the GP. This is very common within general practice. Pharmacists are very knowledgable and skilled in this area and free up the GPs to see patients with other needs.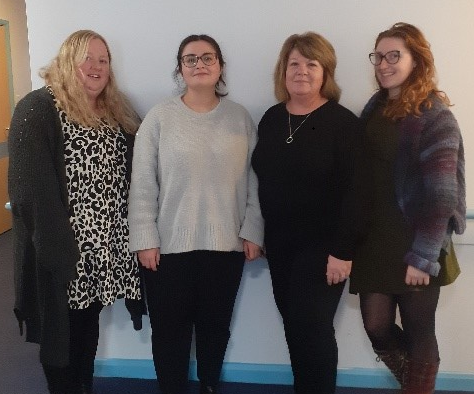 Meet the Practice Manager
This was a success in December so we are holding another one in January. If you have any questions, comments positive or negative come down and meet Claire and share your feedback.
The next date is Monday 15th January between 4pm - 5pm in the foyer at reception.
Surgery Training Afternoons
In order to keep our teams up to date we try and have afternoons when we close in order to provide protected learning time. However, due to the current demand from the winter we are cancelling our planned February session in order to provide the most availability along with all surgeries in Worthing. Therefore there are no planned closed afternoons at Broadwater Medical Centre in January and February 2023.
Coming in February's Newsletter...
A Day in the Life of our Patient Services Team. Being a receptionist has developed so much over the years that we have changed their title to reflect this. Hear what they do in February's edition.
Read December's Newsletter here.
Puzzle Time